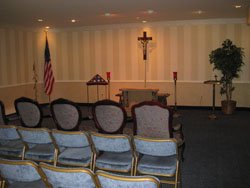 Robert P. Festa Sr., a father of three, grandfather of five, teacher, and certified social worker, entered the funeral industry in 1954. After graduating from Mc Allister School of Embalming and the American Academy of Embalming and Mortuary Research, Robert worked in the funeral trade industry for various firms. On December 17, 1972, Robert and his family fulfilled a life-long dream and celebrated the grand opening of Festa Memorial Funeral Home Inc.
Festa Memorial Funeral Home, 111 Union Boulevard, Totowa, New Jersey, is centrally located in Passaic County. The facility is situated in close proximity to Routes 46, 80 and the Garden State Parkway, making it easily accessible from most major cities in the tri-state area. It is convenient to local cemeteries, both religious and non-sectarian, as well as various houses of worship in order to meet the needs of the families it serves.
The funeral home, which is handicapped-accessible, was built in 1972 to include three modestly sized viewing chapels, a lower lounge, a family conference room, and a casket showroom. This initial facility was designed to allow for expansion in future years. In order to accommodate the changing needs of the community, renovations to the building were initiated in 1976. This construction phase included larger family-gathering rooms (pictured), additional office space, and a spacious parking mall. In addition to this parking mall, there is ample street parking adjacent to the building.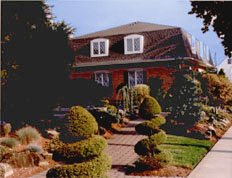 In 1994, the funeral home acquired additional parking facilities with an adjacent, professionally landscaped walking path and tranquil park. This park provides a peaceful outdoor sanctuary for grieving friends and family members.
Robert's son, Robert P. Festa Jr., joined the staff as a licensed funeral director in 1994 after completing his education at Seton Hall University and American Academy Mc Allister Institute. He assisted his father in the family-owned and operated business prior to receiving his license as a practitioner of mortuary science. Robert Jr. is currently in charge of the day to day operations of the firm and serves as Vice-President of the corporation.
Festa Memorial Funeral Home employs five full-time licensed funeral directors, an office manager, and many part-time assistants. The staff takes great pride in providing compassion and quality care to the families we serve.