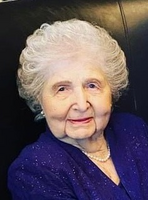 Gloria B. Piccirillo
Gloria Bernadette (Recchione) Piccirillo, June 25, 1924 - July 4, 2022 (Age 98) was born in Paterson, NJ to Joseph Recchione and Laura Del Pizzo Recchione. She lived in Paterson and Haledon before moving to Totowa where she resided since 1959. She was pre-deceased by her beloved husband of 69 years, Anthony Rocco Piccirillo (2018). They had three sons, the late Anthony A. Piccirillo (2007), Stephen Piccirillo, and Andrew Piccirillo. Gloria is survived by her son Stephen and his wife Debra, her son Andrew and his wife Andrea, and her daughter-in-law Kathleen. She is also survived by 11 grandchildren and 11 great-grandchildren, 2 nieces, and a nephew.
After graduating high school, Gloria joined the war effort by working for a defense contractor, Dumont, manufacturing significant equipment for the US military. After the war she met her husband Anthony and in 1948 they were married and honeymooned in Quebec. Gloria was a stay at home mother for years raising her boys while volunteering at St James Church. Once the children were grown, Gloria went back to work as a food services associate at Singer-Kearfott in West Paterson for 15 years. In 1987 she and Anthony retired and began to travel the world. Among their many destinations were Italy, Alaska, Hawaii, National Parks, and many other great adventures. They also loved cruising which took them to many exotic places. Since Gloria was now retired she had more time to devote to St James Church, participating in bake sales and altar linen cleaning. She was also a member of the St. James Rosary Society. Gloria was an active member of the Totowa Happy Seniors Club and managed the 50/50 fundraiser at the monthly meetings. At home Gloria loved to watch her favorite soap operas, The Young and the Restless and The Bold and the Beautiful, Judge Judy, and the Hallmark Channel.
Gloria loved her faith, her family, and her country.
Relatives and friends are invited to visit Festa Funeral Home, Totowa, NJ to pay their respects on Sunday July 10th from 2-6pm.
The funeral mass will be held at St. James of the Marches RC Church in Totowa at 10:30am Monday July 11th followed by a ceremony at Holy Sepulchre Cemetery Mausoleum in Totowa. We will be departing the funeral home at 10:00 AM
In lieu of flowers, donations may be made in Gloria's name to the DESSH (DeSanto Shinawi) Foundation devoted to providing a support-community and research for a cure for patients and their families challenged by this syndrome; one of whom is her great-grandson Leo. Checks can be made to :
DESSH Foundation
3 Higgins Drive
Vernon, NJ 07462
Or online at : www.dessh.org/donate