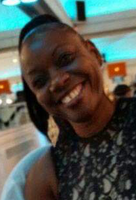 Florence M Rose
With profound sadness we announce the passing of Florence, our loving and devoted mother and friend to all whose lives she touched, on April 24, 2022.
Florence Maud Rose was born February 10th 1959 in St Mary Jamaica. At three years old she moved to Kingston. She attended Maxfield Park Primary and then Norman Manley for high school, where she graduated at the age of 17.
Six months later on February 18th 1977 she made history by becoming one of the first females to join the Jamaica defense force women's unit. She was 1 of only 54 women selected from the thousands that applied. She proudly served from 1977-1983.
She got married in 1982 to Ainsworth Rose. She had 3 children Marsha and her husband Francisco Alvarez, Ainsworth Jr. and his wife, Mikeyah and Basil and his wife, Miya. In July of 1986 she migrated to the United States of America where she worked as a nanny from 1986-2017. In August of 2017 she resigned from being a nanny. At the age of 59 she earned her CDL and joined the New Jersey Transit family.
On September 13, 2018 she was diagnosed with stage 4 colon cancer. She fought her illness with valor and grace and is now survived by her husband, 3 children, 6 grandchildren and 6 nieces and nephews, Joel, Mikayla, Francisco, Ainsworth, Michael, Mikaiya. Her brother Keith and sister in laws Maureen and Diana
Florence had many special friendships that spanned her lifetime.
Elaine Powery is her best friend of 40 years.
Erna VonAutenreid
Maria Guarino
Mellisa Williams (God Daughter)
Florence took special pride in the children she cared for throughout her career:Ava, Riley, Alec, Kayla, Paul, Christopher, Kurt, Sloane, Andrew and so many more.
She was a proud mom, wife, soldier but most importantly a friend to all. She will surely be missed.
Relatives and friends are invited to visit at the Festa Memorial Funeral Home, 111 Union Blvd, Totowa, on Sunday 2:00-6:00 PM. Funeral is private at the request of the family. In lieu of flowers, donations to Memorial Sloan Kettering Cancer Center, 1275 York Avenue, New York, NY would be appreciated.