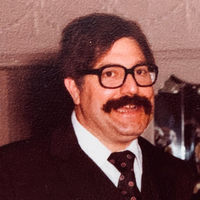 Thomas Michael Conti
Thomas Michael Conti, 75, passed away suddenly in Paterson on October 24 at his home. A lifelong resident of Paterson, he was born on May 7, 1944 to Salvatore "Sam" and Revina "Bea" Conti, nee Canger. Tom leaves behind his wife of 20 years, Elizabeth Torla Conti; his brother Samuel D. Conti and his wife, Shirley Hardcastle Conti of Frenchtown, New Jersey, and his sister Kathryn Conti Salamone of Millsboro, Delaware. Tom is also survived by four nephews, Gregory T. Conti and family of Massachusetts; David M. Conti and family of Connecticut; Joseph A. Salamone and family of Maryland, and Charles A. Salamone and family of New Jersey; two nieces, Susy B. Conti Johnson and husband of New Jersey, and Jennifer Salamone Tierney and family of Massachusetts. A stepson, Adrian Torla, who lives in Poland, is also left behind. In addition, numerous members of the Canger and Conti families as well as friends mourn his passing.
A life-long parishioner of St. Mary's Roman Catholic Church in Paterson, Tom was an altar boy for many years. He attended St. Mary's Grammar School where he was a Boy Scout and St. Mary's High School, Class of 1962, where he served as a class officer, president of the French Club, participated in Cross Country, was a member of the yearbook staff, Glee Club and the Science and Mission Clubs. From 1962 through 1966, Tom served in the United States Air Force stationed at a military hospital in Éverux in Normandy, France. Tom was especially proud of once delivering a baby on a bus and tying off the umbilical cord with his shoelaces.
He returned to the States and attended Kent State University in Ohio and later William Paterson University in Wayne where he received his undergraduate degree. Tom worked as a patrolman on the security detail of Wanaque Reservoir in Haskell. When employed with Arcola Bus Company based in Paramus, he transported children with special needs. Tom worked at Elevators Doors Inc. in Paterson as a specialist in wood finishing. At NuTech Printing Machinery, also in Paterson, Tom assisted in the fabrication of machine parts and equipment. He was last employed at Lakeview Farms Diary, Hawthorne, New Jersey where he worked with his pal, Rick Martinez.
Tom frequented libraries throughout his life to satisfy his nearly insatiable thirst for reading and knowledge. A believer in old school communications, Tom took pen to paper instead of sending emails. Devoted to the Catholic faith from his boyhood, Tom was generous and kind, always sought to help those in need, and in so doing, always saw Jesus in others.
Family and friends are invited to pay their respects on Wed., Oct. 30, 1:00 – 4:00 pm at Festa Memorial Funeral Home 111 Union Blvd., Totowa, NJ. Funeral services will begin at the funeral home on Thursday October 31, 2019 at 9:30 AM, followed by a Mass of Christian Burial which will be celebrated at St. Mary Help of Christians Roman Catholic Church, 410 Union Ave., in Paterson at 10:00 AM with interment to follow at Holy Sepulchre Cemetery on Union Ave. in Paterson, New Jersey. In lieu of flowers, donations may be made in Tom's memory to St. Mary's, 410 Union Ave., Paterson, NJ 07502.