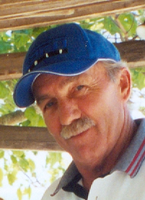 Peter S. "Pete" Dykstra
On August 24, 2019, Peter Sydney Dykstra "Pete", a devoted husband, remarkable father, loving grandfather and loyal friend to many, passed away.
Pete was born on September 16, 1939 in Paterson, New Jersey. He started working at the early age of nine years old delivering newspapers. Hard work, perseverance and seventy years later he became the successful and prosperous man he was today. And although Peter worked hard we all know he played just as hard. Family, boats, vintage cars and golf were just a few of his passions. Pete also loved washing cars. If your car happened to stay in the driveway long enough it was almost certain that you would get a car wash and a lecture about how dirty it was. His other guilty pleasure was collecting tools. If anyone is in need of a tool please allow the appropriate amount of time to pass then reach out to us. We are sure to have it!
Pete was a man of many talents, hardworking, inappropriate and sarcastic at times but loved and respected by anyone who knew him. The destination to Pete wasn't important but rather the journey, and what a journey he had. This quote best sums up his life:
Life should not be a journey to the grave with the intention of arriving safely in a pretty and well preserved body, but rather to skid in broadside in a cloud of smoke, thoroughly used up, totally worn out, and loudly proclaiming "Wow! What a ride!" (Hunter S. Thompson)
Pete is survivived by his wife, Josephine, daughter Deborah Ranges and her husband Mark Ranges, son Mark Dykstra and his wife Debra Dykstra, grandchildren Kristen Ranges, Justin Dykstra, Kaylin Ranges, Patrick McEnerney, Brandon Dykstra and Mia McEnerney. He was pre deceased by his daughter, Karen Dykstra, a warm hearted, caring, beloved and very much missed mom, daughter, sister and aunt. Also surviving is his beloved pet dog, Bailey.
Pete reached the nineteenth hole with grace, skill, power and every once in a while a perfect shot. Although we all played different roles in his life we are blessed to have been a part of his journey.
Relatives and friends are invited to attend a funeral service at the Festa Memorial Funeral Home, 111 Union Blvd., Totowa on Saturday, August 31 at 10:00 AM. Cremation will be private. Friends may visit on Friday, August 30 from 4:00-8:00 PM.