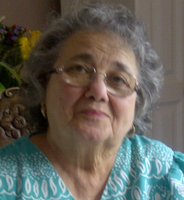 Louise J Matarrese
Louise J. Matarrese, age 90, of New Paltz, NY, passed away on Wednesday, August 14, 2019, in Lincoln Park, New Jersey. She was born on December 26, 1928, in New York, "Little Italy". Her family moved to Brooklyn, New York when she was an infant. She married the love of her life, Mario A. Matarrese, on September 9, 1950 and the couple had five children. Louise was a lifelong, self-employed entrepreneur whose many ventures, included the bowling, lounge and restaurant businesses. Her passions were food and family. As a young woman out of high school she began her career as a book keeper for a car dealership. Her education, intelligence and experience made her the perfect complement to her husband as an equal partner in their business successes. Despite her active involvement in their business ventures she always found the time to make a wonderful home and memories for her family. She was the glue that held it all together. A devout Roman Catholic who attended mass weekly, she loved nature and interacted with it daily on her six-acre property. She was a devout and loving wife, mother, grandmother, great-grandmother and friend whose counsel will be deeply missed.
Louise is predeceased by her husband: Mario Matarrese, her parents, Sebastian and Concetta DiPietro; her brother, Carmine, her sister, Josephine and grandson, Matthew. Louise is survived by her sister, Ann.
She leaves behind her five children, Christine Kerr of Yonkers, NY, Mario and Maria Matarrese of Staten Island , NY, Teresa and Duane Scribner of Hopewell Junction, NY, Lorraine and Erminio Ciampa of Totowa, NJ and Gregory Matarrese and his fiancée Linda Cimino of Cream Ridge NJ; her adored 9 grandchildren, Tracey Kerr, Lori Kerfren, Katie Leidy, Daniel Matarrese, Andrew Scribner, Alex Scribner, Aaron Scribner, Ashley Guerra and Justin Matarrese,; her adored four great-grandchildren, Jayden Matarrese, Elijah Matarrese, Maia Kerfren and Max Kerfren.
Relatives and friends are invited to attend the services at the Festa Memorial Funeral Home 111 Union Blvd., Totowa on Monday at 9:30 A.M. Funeral Mass to follow at St. James R.C. Church, Totowa at 10:00 A.M. Interment at Resurrection Cemetery, Staten Island, NY. Friends may visit Sunday 2-6 P.M. In lieu of flowers, donations to Make-A-Wish Foundation 1384 Perrineville Rd., Monroe Township, N.J. 08831 would be appreciated.