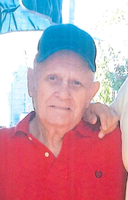 John Robert "Jack" Rae
Rae, John Robert age 84 of Brick, formerly of Totowa, at rest in Lakewood on March 5, 2019. Jack Rae was born on October 1, 1934 in Newark, the first child of Jack and Lily Rae. He was raised in Bloomfield, and attended schools there through 10th grade. In 1950, the family, mother, father, sister Barbara and Jack moved to Clifton. Jack then went on to graduate Clifton High School and Seton Hall University. He then served a 24 month tour of duty in the U.S. Army, 13 months of which were served in Vicenza, Italy. In 1957, he met Marie Pacelli of Totowa and they were married in St. James Church. In 1966, they were blessed with a son, Thomas Patric. In 1976, Marie was hospitalized, and after a valiant battle, died from cancer at age 38. Jack then married Barbara Marzulla and a second son, Matthew John was born.
Relatives and friends are invited to attend the funeral from the Festa Memorial Funeral Home, 111 Union Blvd, Totowa, on Monday at 10:00 AM. Funeral Mass to follow at St. James R.C. Church, Totowa at 10:30 AM. Entombment at Calvary Cemetery Mausoleum, Paterson. Friends may visit Sunday 2:00 - 4:00 and 7:00 - 9:00 PM. In lieu of flowers, donations to the Special Olympics, #1 Eunice Kennedy Shriver Way, Lawrenceville, New Jersey 08648 would be appreciated.
For more information, go to www.festamemorial.com.