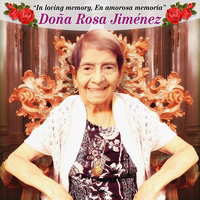 Rosa M. Jimenez
Jimenez, Rosa M. (nee Natal), age 96 of Paterson at rest in Paterson on January 1, 2018. Beloved wife of the late Guadalupe Jimenez (1995). Loving mother of Michael Jimenez of Paterson, Luis Jimenez and his wife Ana of Wayne, Emma Collazo and her husband George of TN, Blanca Jimenez of Paterson, Richard Jimenez and his wife Amalia of Wyckoff, and Margarita Martes and her husband Marty of Clifton. Dear sister of Maria Encarnacion of Puerto Rico. Rosa is also survived by 11 grandchildren, 19 great-grandchildren, and 1 great-great-granddaughter. Born in Vega Baja, Puerto Rico she lived in Vega Baja, Puerto Rico before coming to the United States in 1952 and residing in Paterson. She was co-owner of Botanica San Lazaro, formerly of Paterson now of Clifton, for over 40 years before retiring in 2009. Relatives and friends are invited to attend a funeral service at the Festa Memorial Funeral Home, 111 Union Blvd., Totowa, on Monday at 10:00 AM. Interment to take place at Puerto Rico National Cemetery, Bayamon, Puerto Rico on Thursday January 11th, at 11:00 AM. Friends may visit Sunday 2-4 & 7- 9 PM.
"If Roses Grow in Heaven"
If roses grow in Heaven Lord please pick a bunch for me.
Place them in my mother's arms and tell her they are from me.
Tell her I love her and miss her, and when she turns to smile, place a kiss upon her cheek, and hold her for awhile.
Because remembering her is easy, I do it everyday. But there is an ache within my heart that will never go away.