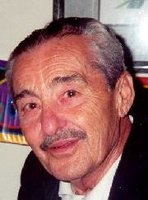 Louis V. Turi
Turi, Louis V. of Totowa at rest in Totowa on April 27, 2004. Beloved husband of the former Margaret Mazzeo. Father of Barbara Pepe and Victoria Turi. Brother of Anthony Turi and Martin Turi. Also survived by 4 grandchildren and a great grandson. Relatives and friends are invited to attend the funeral from the Festa Memorial Funeral Home, 111 Union Blvd, Totowa, on Friday at 9:00 AM. Funeral Mass to follow at St. James RC Church, Totowa at 9:30 AM. Entombment at Holy Sepulchre Cemetery, Totowa. Friends may call Thursday 2-4 and 7-9 PM. For more information, go to www.festamemorial.com
OBITUARY
Louis V. Turi age 82 of Totowa died Tuesday. Born in Paterson, NJ he lived in Totowa the past 46 years. He was the Deli Manager for Foodtown, Paterson, NJ before retiring After that, he was a bartender for Murphs Liquors, Totowa for 10 years before retiring. Mr. Turi was a parishioner of St. James R.C. Church, Totowa, NJ. He was a WW II Army Veteran and was a Prisoner of War, receiving the Bronze Star Medal, and the Good Conduct Medal. Mr. Turi was a member of the American Legion Post #227, Totowa, NJ.
Survivors include his wife:
The former Margaret Mazzeo of Totowa
2 daughters:
Barbara Pepe of Bloomfield, NJ,
Victoria Turi of Monroe Twsp, NJ
2 brothers:
Anthony Turi of Toms River, NJ,
Martin Turi of Elmwood Park, NJ
Also survived by 4 grandchildren and a great grandson.
Festa Memorial Funeral Home, 111 Union Blvd, Totowa is in charge of arrangements.