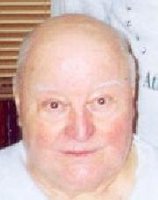 Pietro AKA Peter Iannino
Iannino, Peter of Paterson at rest in Paterson on April 21, 2004. Devoted husband of the former Bianca Alvino. Father of Anthony Iannino and the late Samuel Iannino. Grandfather of Megan Iannino. Cousin of Margarita Maffeo. Relatives and friends are invited to attend the funeral from the Festa Memorial Funeral Home, 111 Union Blvd, Totowa, on Saturday at 8:30 A.M. Funeral Mass to follow at St. Bonaventure RC Church, Paterson at 9:00 A.M. Interment at Holy Sepulchre Cemetery, Totowa. Friends may call Friday 2-4 and 7-9 P.M. For more information, go to www.festamemorial.com.
OBITUARY
Peter Iannino age 82 of Paterson died Wednesday. Born in Paterson, NJ he was a lifelong city resident. He was the owner and proprietor of Petes Barber Shop, Haledon, NJ for many years before retiring. Mr. Iannino was a parishioner of St. Bonaventure R.C. Church, Paterson
He was a WW II Army Veteran.
Preceeding him in death was hisson: Samuel Iannino died in 1959
Survivors include his wife:
The former Bianca Alvino of Paterson, NJ
A son:
Anthony Iannino of Kinnelon, NJ
Also survived by a grandaughter and a cousin.
Festa Memorial Funeral Home, 111 Union Blvd, Totowa is in charge of arrangements.