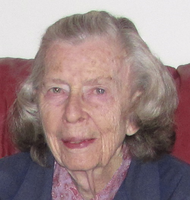 Evelyn Murphy Mueller
Evelyn Murphy Mueller (nee Evelyn Emma Murphy) of Paterson, NJ and Lake Hopatcong, NJ, died March 5, 2018 at Morristown Medical Center, Morristown, NJ after a short illness. She was 92 years old and lived a very good life. She was born December 15, 1925 at her parents' home in Paterson, NJ and was the daughter of James Joseph Murphy and Emma Christine Murphy (nee Lutz), both of whom predeceased her.
Evelyn attended public school in Haledon, NJ where she met her future husband, Ernest, in the 3rd grade. She graduated from Paterson Central High School in 1943 and went on to graduate from Montclair State Teachers College (now Montclair State University) with a bachelor's degree in business education and a master's in education in 1947 and 1951, respectively.
She worked as a teacher in the Park Ridge, Fair Lawn, and Paterson school districts from 1947 through 2007, with time off in between to raise her daughters. She taught at Paterson School #18 for 33 years before retiring in 2007. She was also the co-owner, with her husband, of M&M Delicatessen in the 1950s-1960s.
Evelyn married Ernest F. Mueller on June 25, 1949 at St. Mary's Memorial Episcopal Church in Haledon, NJ and they were happily married for 51 years, until his death on April 4, 2001. She was also predeceased by her sister-in-law June Hoffman.
She is survived by her two daughters Patricia Murphy Mueller of Lake Hopatcong, NJ, Barbara Mueller Slegel of Hyde Park, NY, and son-in-law Timothy Slegel. She is also survived by her two beloved grandsons Craig Mueller Slegel and Dalton Mueller Slegel, both of Hyde Park, NY, and also four nieces: Marlene Markus of Manitou Springs, CO, Karen Keefe of Elk Ridge, MD, Susan Moon of Falls Church, VA, and Janet Callum of Sterling, VA.
Evelyn was a member of the former Saint Mary's Memorial Episcopal Church in Haledon where she was a member of the choir and the altar guild. More recently she attended St. Peter's Episcopal Church in Mt. Arlington, NJ. She was on the board of trustees for the Clinic for Mental Health Services from the 1970s through the 1990s. She was the past president of the Paterson Council of Parent Teacher Associations, served on the Great Falls Festival committee, and as a Girl Scout Leader in Haledon for many years.
Evelyn enjoyed spending time at their summer home in Lake Hopatcong. She enjoyed watching her grandsons grow-up and attended all of their concerts. She was also an avid fan of the television shows Jeopardy, Antiques Roadshow, Big Bang Theory and also enjoyed watching NASCAR races.
Visiting Friday March 9 from 5 to 9 PM at Festa Memorial Funeral Home, 111 Union Blvd., Totowa, NJ. Funeral Service Saturday March 10 at 10 AM at the funeral home. Interment to follow at Laurel Grove Cemetery, Totowa. In lieu of flowers, please send donations in Evelyn's name to St. Peter's Episcopal Church, P.O. Box 403, Mt. Arlington, NJ 07856.