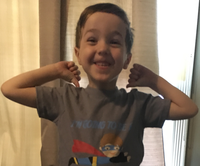 Owen J. "O" Kleiwerda
Kleiwerda, Owen J. age 4 of North Haledon died suddenly on August 5, 2017. Born in Pequannock, "O" lived in North Haledon his entire life. He attended Milestones Academy and Memorial School, both in North Haledon and received the perfect attendance award. He enjoyed swimming, riding his bike, and playing with his hot wheels. He liked to spend time with his cousins and his family.
Beloved son of Jacob R. and Elizabeth (nee Itkin) Kleiwerda of North Haledon. Brother of the future Emily Kleiwerda. Loving grandson of Marion & Raymond Kleiwerda of North Haledon and Mirta & Jaime Itkin of Totowa. Dear cousin of Christopher, Joshua, & Jennifer Itkin and Dylan & Sienna Osso. Caring nephew of Melissa Kleiwerda-Osso & her husband Michael Osso of Fort Lee, Edina Itkin & her husband Elizer Itkin of Totowa and Soraya Billinge & her husband Ian Billinge of L.I.N.Y. He is survived by his beloved pet dog, Bo.
Jewish funeral services will take place on Wednesday, August 9, 2017 at 7:30 PM and Catholic funeral services will take place on Thursday, August 10, 2017 at 10:00 AM at Festa Memorial Funeral Home 111 Union Blvd., Totowa with burial to follow at Laurel Grove Memorial Park, Totowa
Visitation will be Wednesday 4:00 - 8:00 PM at the funeral home.
Donations is his memory may be made to: www.gofundme.com/in-memory-of-owen