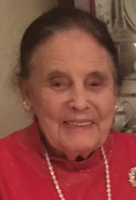 Agnes Bridget Walter
Walter, Agnes Bridget (nee: Cooney) 95, passed away on July 26, after a short illness. She was a resident of Paterson, and spent every summer since 1949 at her home in Ocean Beach Unit I, New Jersey. Born in Passage West, County Cork Ireland, she came to the United States as a child. She grew up in Passaic, and graduated from St. John's High School in Paterson, where she met her future husband. She then attended St. Joseph's Hospital School of Nursing. She was married for 57 years to her husband Francis C. Walter, an administrator at Kennedy High School in Paterson. He predeceased her in 1999. Agnes was a member of Saint Joseph's Church in Paterson for many decades where she served as president of and treasurer of the Rosary Altar Society. She was also active in Our Lady of Victory Church in Paterson, at the Shrine of St. Jude. During the summer and fall she attended Saint Padre Pio Church in Lavallette. She received the Vivere Christus award from Bishop Serratelli for her service and devotion the church in the Diocese of Paterson. Agnes had a talent for knitting, crocheting, and sewing. She attended craft groups in Hawthorne and Lavallette. She also enjoyed cooking, entertaining, and playing Scrabble. An avid reader, she usually read a book a week.
Agnes was totally devoted to her family and loved hosting holidays and birthdays and making dinner for a large crowd. She was famous for the Irish Plum pudding that she made every year at Christmas time.
Besides her family, she served as a role model for all who came in contact with her.
She is survived by her three children: Sheila Chlupsa of Wayne, Kate Walter of New York City, and John Walter of Brick, New Jersey; six granddaughters: Maryellen Meymarian, Colleen Weis, Patricia Landers, Monica Voinov, Kelly Walter, Shannon Walter, and a grandson John Walter; and nine great grandchildren and five nieces. Relatives and friends are invited to attend the funeral from the Festa Memorial Funeral Home, 111 Union Blvd, Totowa, on Monday at 9:15 am. Funeral Mass to follow at St. Joseph's Church, Paterson at 10:00 AM. Interment at Holy Sepulchre Cemetery, Totowa. Friends may visit Sunday 2-4 & 7- 9 pm. In lieu of flowers, donations to Eva's Village, 393 Main Street, Paterson, NJ 07501 would be appreciated. For more information, go to www.festamemorial.com.